Union Resource Team Members Trained on Social Protection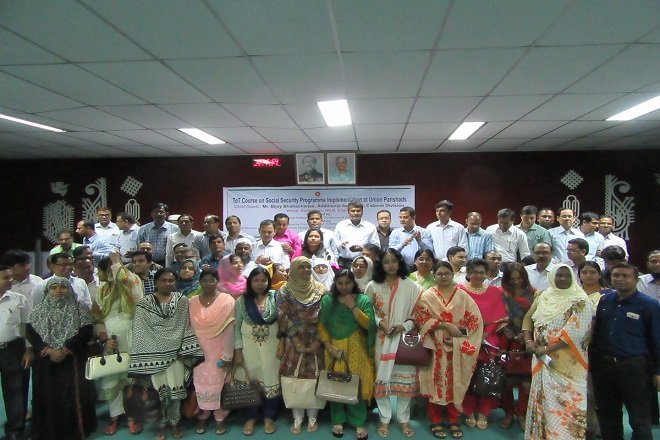 The Union Parishad is the last stage of administration in Bangladesh. Today is the launch programme of a Training of Trainers (ToT) where members of the Upazila Resource Team (URT) will conduct training for Union Parishad representatives and secretaries all over Bangladesh.
Md. Monirul Islam, Deputy Chief, General Economics Division, and DNPD, SSPS Programme, commented on Bangladesh's excellent economic growth which can be showcased to the world and that Bangladesh now belongs as a member of the USD 100 million club, but in a space of 7 years, Bangladesh, has doubled its GDP to USD 200 billion, which is a remarkable achievement.
Md. Monirul Islam, Deputy Chief, General Programme commented that we can find out whether poverty has increased by calculating the difference between the poverty line and measure of a household. We need to reduce the vulnerability of extreme poverty through the lifecycle approach and a rights based approach as is mentioned in the Bangladesh Constitution 15(d) (GED, pXXI).
Training and Consultancy, NILG Md. Golam Yahea also  spoke at the launch saying that NILG is a renowned establishment providing training to local government officials. Today the importance of the delivery of social safety nets in Bangladesh can be seen and he gave tips at the ToT to the Union Resource Team.
The TOT course was for two days where a total of 14 batches of URT members were trained. Three training sessions of one-day duration were also conducted for DD & AD of District Social Service Officers.