Grievance Redress System in Bangladesh – National Validation Workshop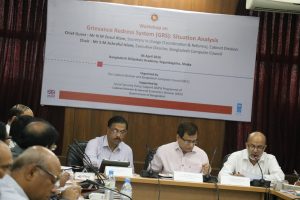 Senior government officials, NGO personnel and UNDP were present on 8 June 2016 to help map out the present situation of Grievance Redress Situation in government and private sector. There was a workshop later where participants listed the challenges and the solutions that would be required to integrate all grievance procedures.
Grievance Redress Systems (GRS) are recognised worldwide as one of the enabling factors for organisations to be efficient, effective and people-oriented. A functional platform for receiving people's complaints or grievances, facilitates administrators to improve their service delivery systems, thereby improving governance in general. In Bangladesh, there are some ministries and NGOs that have their own online grievance redress systems, but they need to be integrated into a single and centralised GRS to produce better results. This is a challenging task as much effort will be required before all these systems can be integrated due to administrative and technical implications.
Following a recommendation of the report of the Public Administration Reform Commission (PARC) in 2000, for the first time, the Cabinet Division of the Government of Bangladesh (GoB) took an initiative to bring together the existing redressal systems in the country under a central GRS platform on a test basis. A format for this centralised GRS, both manual and online platforms, has been established to implement grievance redressal for mitigating people's complaints relating to end-to-end service delivery. The online platform, which is an interactive web-based software and portal, will help to translate the existing grievance policies into a workable database structure. The system is available online at www.grs.gov.bd.
In pursuing the objective of achieving a centralised GRS, a technical committee of the Bangladesh Computer Council (BCC) has reviewed and mapped all grievance mechanisms or systems being implemented or in the process of being implemented in the country by any government, non-government or development agencies. On 06 April, 2016, with a view to sharing the results of the review and mapping exercise, the Cabinet Division and the BCC organised a "Workshop on Grievance Redress System (GRS) in Bangladesh – a situation analysis exercise".
The specific objectives of the workshop were to:
Take stock of the progress made with regards to the implementation of the existing grievance redress systems in Bangladesh; and
Share experiences and lessons learnt to reach an agreement on which concrete actions to take for establishing a comprehensive and effective GRS in the country
The workshop, held at the Jatiyo Nattyashala of Bangladesh Shilpokala Academy in Dhaka, was attended by Chief Guest Mr. N M Zeaul Alam, Secretary (Coordination and Reforms), Cabinet Division and S M Ashraful Islam, Executive Director, BCC who chaired the occasion. More than 100 representatives of different ministries, NGOS and UNDP participated in the workshop.