NSSS Gender Strategy and Action Plan (Draft) – For National Social Security Strategy of Bangladesh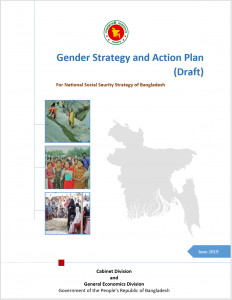 The National Social Security Strategy (NSSS) of Bangladesh approved by the Cabinet of the Government of Bangladesh (GoB) in 2015 is a step forward towards a comprehensive life cycle-based approach to social protection of the poor, vulnerable, and otherwise marginalized men and women of all ages. It is evident that women of all ages and groups experience different types of vulnerabilities compared to their male counterparts and therefore, they need specific attention for social security to reduce gender inequality. This entails intensifying action towards reducing gender gap through social security programmes. 
The NSSS recognized the gender disparity in Bangladesh measured by different indicators and the need for specific social security programmes for girls and women. It includes a consolidated Vulnerable Women's Benefit (VWB) programme specifically address women's needs, which will contribute towards reducing gender inequality. Several social security programmes target women, cover various stages of life cycle and provide protection and prevention services, support human development, and economic benefits for them.
In the absence of a concrete guidance for gender inclusive social security programming, the gain towards gender equality from social security programmes were short of the possibilities. Therefore, a Gender Policy was developed and approved by the Central Management Committee (CMC) of National Social Security Programmes under the Chair of the Cabinet Secretary in 2018 within the framework of the NSSS to provide guidelines to address gender aspects in social security programmes considering women's vulnerability and various gendered social protection needs. This Strategy and Action Plan is a step forward in realization of the objectives of the NSSS towards reducing gender gap in development by operationalizing the gender policy.
The NSSS is operationalized through 35 ministries and divisions of GoB. They provide protection, prevention and promotional services along lifecycle risks of children including early childhood needs, working age people – including specific focus on youth, vulnerable women, the elderly, and persons with disabilities. Some ministries play supportive role in monitoring, financing and coordinating social security programmes.  These ministries and divisions have developed their respective action plans to implement the NSSS – a highly ambitious reform document to bring transformative change in citizens' lives. In the absence of a framework for addressing gender inequality, these action plans need complementary strategies to address gender aspects in social security programming. Hence this strategy and action plan are to support these 35 ministries/divisions in designing and delivering social security programmes aiming at reducing gender gap and empowering women and girls.
This Strategy provides a road map for prioritizing social security programmes, mode of design and operation to ensure better gender equality results. It provides for progressive but substantive scaling up of the programmes that offer multidimensional opportunities to vulnerable women including support to build human, economic and social capital as well as enhance their voice and confidence.